Why ResumeBaker?
In this economy, employers are free to pick and choose from dozens and even hundreds of applicants for individual positions.
How are you going to stand out in this sea of paper and text?
Fortunately, that is where the brilliance of ResumeBaker.com can help.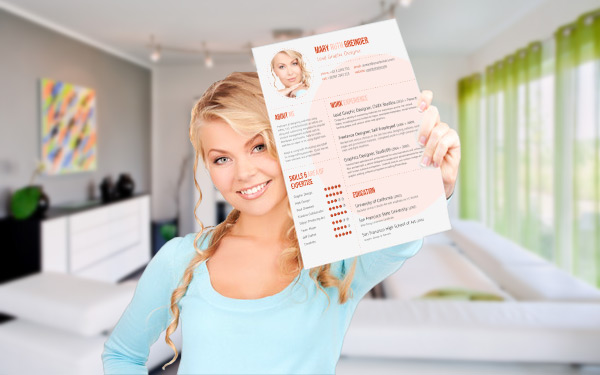 Our resume templates are designed to be eye candy for human resource personnel and management. These resumes are the perfect blend of style, color, and function, helping to attract attention to the page but not so much as to deter away from the text itself. As a result, you get those extra few seconds of visibility that often separates those who make it to the interview stage from those who get sent to the round filing cabinet, also known as the trash can.
The people often making hiring decisions can only afford to spend a few seconds looking over each resume presented to them. If there is nothing to catch their eye, then they'll more than likely pass on the candidate. So in this ultra competitive labor market, it is nice to have an advantage, which is exactly what the service provided by ResumeBaker.com gives to every customer.
Consider It An Investment
The resume is the most important document you'll ever create. It alone has the power to make or destroy the financial future for you and your family. With this in mind, it is amazing that so few people spend money to develop a well-written and designed resume. Even more astounding are those who simply think typing a resume in 12pt Roman Times on generic white computer paper will somehow land them their dream job.
Be Creative and Standout!
Employers are looking for initiative. They enjoy seeing an effort made by potential employees to differentiate themselves from the rest of the herd. Give them exactly what they want, but give them even more of it. With ResumeBaker.com, you can produce a compelling, visually stunning resume which is guaranteed to get noticed among the countless pedestrian ones which offices are often swamped with.
When you hire ResumeBaker.com, you're getting access to a team of real artists who understand how provocative a few lines, curves, and colors can be when it comes to transmitting certain information. They'll work with you in order to help you accomplish your own individual goals, including not only getting noticed but also presenting a bold image of yourself to the world (and potential employers). They not only view your resume from the point of view of a designer, but also as an employer too, setting each word down perfectly on the page so as to create a wonderful story of who you are and what you intend to accomplish.
Be more than just a few words on a page. Have your resume come alive in the minds of those reading it. Order our service today.